Venus Plus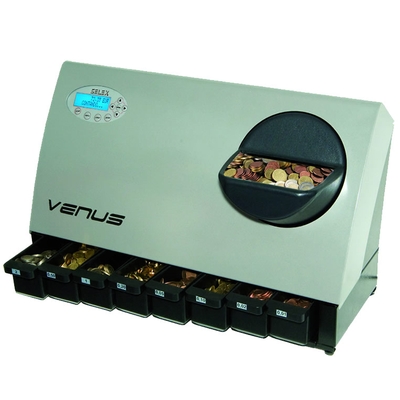 VENUS PLUS is an excellent machine coin sorter adapted to count and sort up to 15/20.000 coins per day.
The machine has an operating speed of 700 coins per minute in the 8 selected and divided into compartments dedicated handcart or drawers that can be chosen by the user.

VENUS PLUS allows the packaging of coins in a single step during the count, it can be programmed arrests sack for each name.

VENUS PLUS can be connected to a printer or PC via RS232 serial and can be installed on a trolley or simply placed on an existing table.

VENUS PLUS is easy to use and does not require constant maintenance, it can be done once a week with a blown compressor to keep the car in perfect order.

Possibility to sort up to 8 different denominations (diameter from 14 to 32 mm
Synchronism to stop the machine when it is empty
Connection to any printer or PC
Possibility to enter operator's code, account number, date, time, banknote value, etc.
8 boxes with a capacity of 300 coins/each or bags holders
Graphic display
Technical specifications:
Dimensions:
640x250x400 mm (W x D x H)
Voltage :
100-130/200-240 v - 60/50 Hz