Selematic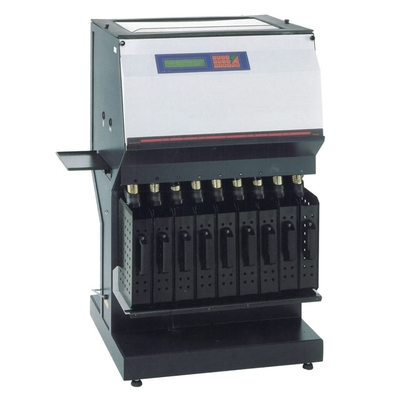 Simoultaneous coin counting - Sorting machine Selematic Wind

With this machine it is possible to sort and count up to 13 different type of coins. Selematic count and sorts simoultaneously all denominations with a tolerance less than 1/10 mm.
Higher noiselessness(72 db - standard)
Counting speed: 1000 coins p.m.
Counting coins are displayed and there is the possibility to print all the datas concerning counting and sorting of the coins. it is possible to know: partial totals, main totals (day-end, month end, end of the year) in two system: in value (8 digits), in munber (5 digits)
Automatic rejection of irregular coins
Optionl RS232 interface and Alloy Detections System (ADS).
Technical specifications:
Dimensions:
H: 1200 mm - W: 730 mm - D: 550 mm
Hopper capacity:
6000/7000 coins max
Power consumption :
220 W