Carry e Count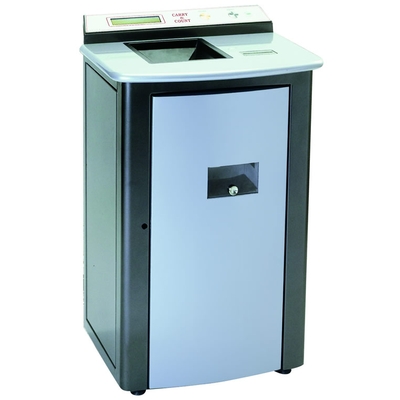 "Carry & Count" is a system for coin self-deposit to be installed in the protected areas of the banks, armoured companies, supermarkets or similars.

The coins (even mixed) are easily fed into a proper hopper: after having pressed "start" key, the machine counts all the coins and displays their total (alphanumeric display). All information (such as main and partial totals) and all details about different operations are available by selecting the proper function.

The machine supplies automatically deposit tickets (auto-cutter) and registers further on transaction details in a journal-entry book (double ticket: stub for the bank – counterfoil for the customer). "CCD Selex" coin detection system combined with alloy detector assure an high accuracy in coin counting and counterfeit detection.

"Carry & Count", thanks to its steel thermo-welded structure (noise-proof plymeric covering) assures an excellent noiseless use and a just valid anti-crime safety measure. "Carry & Count" is equipped by a double rejection box and a pratical deposit collector (with wheels and handles).
Technical specifications:
Dimensions:
Height: 990 mm Width: 610 mm Depth: 450 mm
Counting speed:
max 1000 mon./min - diam. medium 22 mm.
Hopper capacity:
8000 coins - diam. medium 22 mm.
Noise :
below 60 dB (A) Standard