Century basic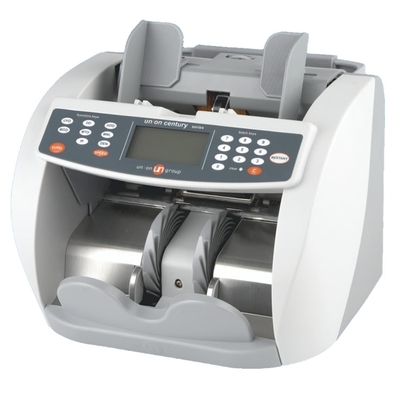 High Top quality currency counter. Macchina professionale adatta a contare medi quantitativi di banconote in back-office. Heavy duty performance . Attactive design .Easy maintenance with self-diagnostic system .Automatic & manual Start and Stop Automatic Error detection (Half, Double, Jam, Chain, etc) .
With DEN / UV / DD counterfeit detection . Batching and adding functions. Clear blue LCD display with white characters . With RS232 port for PC, External display and Printer connection.
Technical specifications:
Dimensions:
272 x 235 x 239 mm
Power supply:
100 V - 240 V and 50 Hz - 60 Hz
Counting speed:
1600/1000/600 notes/min.
Hopper capacity:
400 notes
Banknote measures :
Width: 50 - 90 mm, Length: 110 - 185 mm
Banknotes thickness :
0,075 - 0,15 mm